HOW OUR WORK RELATES TO PROJECT HEART
Q. What is Project HEART?
A. Project HEART stands for Holocaust Era Asset Restitution Taskforce.

Project HEART (www.heartwebsite.org) was launched around 2011. It was initially promoted as an international project, with the aim of obtaining some measure of compensation for financial losses of Holocaust victims and their heirs, which have not been compensated. Project HEART had strong support of the government of Israel (who provided the bulk of its funding) and the moral support of certain Jewish organizations. Launched around 2011, for the first few years Project HEART was calling upon victims of the Holocaust and their heirs to file with Project HEART documented claims for the uncompensated asset losses.

Though it did not say this directly, the initial message of Project HEART was that it will obtain compensation for losses of those who file claims with Project HEART. Indeed, many thousands of persons filed claims with project HEART. A large part of these claims concerned real property located in Poland.
Q. What is the status of Project HEART?
A. By the summer of 2014, the outgoing telephone messages of Project HEART were that for the time being it was not accepting further claims, that its offices in Europe and the United States were closed, and that its office in Israel remained open. Accordingly, until March 2016, we remained hopeful that Project HEART will be reorganized and will go forward. We put a rather optimistic message on our website to this effect.

Regrettably, as of the March 2016, we no longer believe that Project HEART will achieve any meaningful compensation for claimants. There are several reasons for this pessimism:

Looking back, it seems that Project HEART was never well organized.
Project HEART's offices in the USA and in Europe were closed in 2014 and two years later have not been reopened.
In March 2016 we wrote to Project HEART to inquire about its status. We received an answer from the Ministry for Social Equality of Israel, which indicates that Project HEART has abandoned efforts to directly obtain compensation for claimants. This includes many thousands of claimants who filed claims with Project HEART.
Accordingly, we believe that at present (since March 2016) individual claims through the Polish legal system are the only avenue left for obtaining restitution from Poland.

As specialists in the field of recovery of expropriated assets in Poland, we feel obligated to remind potential claimants that:

Time is not running in their favor. See DEADLINES
Not all expropriated assets are recoverable in Poland — each case needs to be analyzed.

Small assets are not worth the effort required to recover them.
Below, we elaborate further on these matters.
Q. Does Poland have any law or governmental program to return / restitute confiscated (nationalized, expropriated or otherwise taken away) properties located on its present territory?
A. No. Unfortunately, Poland has no such re-privatization law or such compensation program concerning private property. However, while refusing to provide a general property return or restitution scheme, successive Polish governments have repeatedly stated that individual claimants can pursue their claims before the Polish courts.

This avenue has worked for thousands upon thousands of claimants, including some working with us. And this is the avenue we advise, with certain precautions and controls.

Q. What about properties located on the territory of pre-war Poland which presently belongs to Lithuania, Belarus or Ukraine?
A. Because these properties are located outside Poland's jurisdiction, their recovery is not possible through Polish courts. However, persons possessing Polish citizenship (Polish law permits multiple citizenships) could claim in Poland compensation at 20% of the value of properties left in those former Polish territories. Successful claimants who applied, have often received other properties in payment, rather than cash. Additional conditions and restrictions apply.

There are also some avenues to recover properties under the laws of some of these other countries (Lithuania, Belarus and Ukraine).

Q. How come Poland does not have a program to compensate former owners / heirs for nationalized or expropriated property located on its present territory?
A. Since the fall of Communism in 1989, the government of Poland has been talking about creating such a program, but no such legislation was ever put to the Polish parliament to vote on. In the early 1990s, Poland proposed to international Jewish organizations and to non-Jewish organizations too, to enact legislation that would provide compensation at 15% to 20% of the value of confiscated private property, to be paid over 20 years. This offer was rejected.

Reportedly, the then premier of Poland made a very similar offer in 2008 (via the proposed Re-Privatization Act, which also was never put to a vote in the Polish parliament. This offer was criticized by international Jewish organizations and by the Poland's Union of Real Estate and Property Owners, and no improved offer was ever made.

One is forced to conclude that 27 years after the fall of Communism, the Polish government has not made an attractive offer of restitution and will not make one in the future.

The exception is the so-called "Communal Property". Following on Poland's restitution of properties taken from the Roman-Catholic Church, Poland also has transferred to Jewish organizations certain assets of former Jewish communities (e.g. buildings and cemeteries).

Individuals, however, must take legal steps to recover the assets they inherited.
It should be noted that the Communist confiscations of private property in Poland affected both Jews and non-Jews. There are estimates that the Jewish claims (and potential claims) concerning confiscated property represent around 20% to 27% of the total number of such claims.
Q. How does Poland's position compare with restitution programs legislated by other Eastern European countries?
A. According to various international Jewish organizations, Poland lags behind several other Central and Eastern European countries in efforts in these matters.

However, we do not believe this comparison changes anything. Our conclusion is that the succeeding governments of Poland have successfully played for time and will continue to do so. The fundamental fact is that all survivors of WW2 and the Holocaust are elderly persons. Their children are no longer young. Every year some of them pass away. Thus every year, the number of persons who could make the claims for recovery / restitution declines.

In addition, as mentioned on the Home page, soon (in 2019) thirty years will pass since the fall of Communism in Poland. Thirty years is the duration of the longest statute of limitation period in Poland. We believe that after this period ends, the statute of limitations will defeat most, if not all, claims filed after that deadline.

Q. Are there any additional reasons why we are pessimistic about any general property restitution laws being enacted in Poland?
A. There are several, namely:
Poland does not have a tradition of legal protection of property rights in any way comparable to that in the West.
Prior to Partitions of Poland, which commenced in 1772, only a very small part of the population had the right to own real-estate with few exceptions — primarily the nobility (

Szlachta

).
During the Partitions of Poland, and until Poland regained independence in 1918, the three foreign powers (Russia, Prussia and Austria) who partitioned and annexed Poland, frequently confiscated the properties of Polish patriots as collective punishment.
During WW2, the Nazis did worse, including their confiscation of all property held by Polish citizens who were Jews.
After WW2, the Communist regime of Poland reversed the Nazi confiscations, only to institute its own.
As a result of the foregoing, Polish people became used to the fact that their property rights are not inherent, but at the mercy of the government.
Therefore, public outcry over the absence of property restitution in Poland is limited.
The history of dealings, since the fall of Communism in 1989 to the present time, between the government of Poland, international Jewish organizations and Polish organizations (e.g. Union of Real Estate and Property Owners, Association of Land Owners) is not encouraging in the least.
Time works in favor of the Polish government continuing to delay. The victims of confiscations who are alive are now elderly persons. A child born before WW2 and a teenager when WW2 broke out, is 86 years old today.

Every year some survivors pass away. Thus the number of persons who even remember enough to able to make a claim declines, within Poland and abroad.

Under Polish law, as in other countries, the government acquires estates when no heirs present their claims.
In view of all elements mentioned on this web page, we see at present no realistic alternative to individual actions by claimants, as a way to recover their inheritance in Poland.


Footnotes:
(15): Humanity in Action, "Roadblocks to Jewish Restitution: Poland's Unsettled Property" 2008, follow link. (opens new window)

(16)

:

Times of Israel, December 6, 2012 "Poland seen as worst offender on Shoah restitution. Conference shows some progress, mostly evasion by governments across Central and Eastern Europe", reporting in the November 2012 conference on Holocaust restitution (the Immovable Property Review Conference), organized as a follow-up to the 2009 Terezin Conference.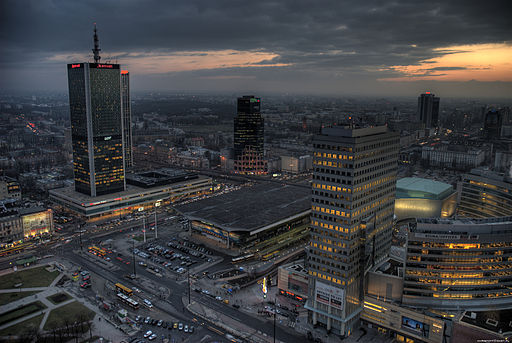 Warsaw Central Station by night
By Christoff from Warsaw, Poland via
Wikimedia Commons
,